Contact us  for individual venue information for a brush party with 'a brush with wine' near you.
Or any other queries please mail to:Info@abrushwithwine.co.uk or please Tel: 07966508961
Our Story
Hello! We are husband and wife team, Jenny and Garry, co-creators of A Brush With Wine.  We want to share our love of art and painting, making it open to everybody to try and most importantly, fearlessly enjoyable.  
Inspiration came one evening in 2012, whilst we were on vacation visiting our great friend in Santa Barbara. This was our first introduction into the brush and wine party events which have become a go to destination in the USA to socialise and have fun.
Painting and Brush Parties seemed to be the talk of the town – We were happy to find our ourselves mixing with new people having a lighthearted, fun night out.  Many guests were 'trying a bit of art' for the first time, or a long time after their last art lesson at school!  It was really sociable and carefree.
Some people were out with friends for the evening, others were celebrating an anniversary or on a date (a really good idea because there always something for you to chat about!).  We had an amazing time, so much laughter and our paintings hang in our friends flat to this day (So he says!).
We though we'd bring back some of the SoCal spirit to Blightly and see if we couldn't encourage a few more of you to 'give art a go'…all fun, no pressure!
Everybody you see pictured on the website is either a friend or a member of our extended family, including the gorgeous Charlie, Emily, Katie and Ethan.
There are no models on the website because we wanted to emphasis the authentic, family, friends and fun nature of what we do and who we are.
Meet the Team
Jenny, Director and Lead Artist started her career in Media for a magazine publisher, moved into Brand Insight and Ideation for about 20 years before re-training to become a Psychodynamic Counsellor and Mental Health adviser.  However, art has always been a passion and she wrote and illustrated a children's picture book and currently takes commissions for dog portraits.
"A Brush With Wine brings together a love or art and the potential to bring at least a moment of peace, happiness, connectivity with friends and creativity into what are often busy, hectic lives".
Jen is an 80s girl at heart with a love of anything written or produced by Nile Rodgers – she dares you not to dance when she's the Lead Artist!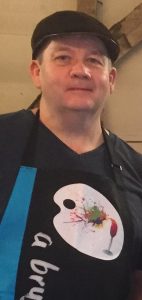 Garry, Director and Lead Artist…cut him down the middle and it says "Mancunian' and possibly 'Black Pudding'!  Brought up in the era of the Hacienda, in a city that "thinks a table is for dancing on." (Mark Radcliffe, BBC DJ) he'll be happy to share his tall tails with you. A fun husband Garry,  likes to think of himself of
"a mixture of Steve McQueen and Brad Pitt, but in reality more of combination of Peter Kay and Arkwright ('Open All Hours')."
He can often be found in his workshop turning a beautiful bowl or other wooden artefact.  Garry has natty humour, set at a jaunty angle and a good sense of hats.
Garry trained formally in Graphic Art and worked as an award winning designer for major brands. He developed a love for education and has taught for almost 20 years.  Many of his student have developed successful careers of their own in the art and design world.  Years later, many past students contact him either for advice or just to share their journey with him and this is something he values highly. Today his main love is for his wife Jenny and their re-homed miniature schnauzer Peggy, AKA Mini Mischief.
Charlie, Front of House Manager  is a treasured friend and the grounded one in the business (and in life!) who embraces all things spiritual.  She is compassionate and kind with a playful twist! Charlie is the calm in a storm.
Her career began in the music business then a stint in America but came home to raise two beautiful children. She exudes warmth, studies positive psychology and has trained as a yoga teacher.  She continues to learn and practices mindfulness and mediation.  Above all Charlie will help anyone if she can and keeps A Brush With Wine running smoothly on the night!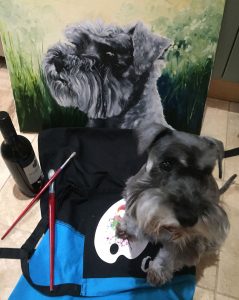 Peggy is the company mascot and beloved pooch of Jenny and Garry. She has a liking for carrots and can be found rummaging around the strawberry patch, hunting for sweet treat in summer.   She says she's with us in spirit at A Brush With Wine and apologises for not turning up but she's otherwise engaged, chasing squirrels.
Have a venue?
Do you have a licensed venue for up to 30 people?  Let us help you generate extra revenue! We provide the painting instruction and party atmosphere, our guests enjoy your hospitality and you receive the profits from the additional sales of alcohol and food!  Win-Win!
Please contact A Brush With Wine to discuss this opportunity further.
Venues currently being sought in and around Buckinghamshire and Hertfordshire Aylesbury, High Wycombe, Amersham, Tring, Hemel Hempstead, Berkhamsted